ARIZONA BANS MEXICAN STUDIES!
Be a Seed for Change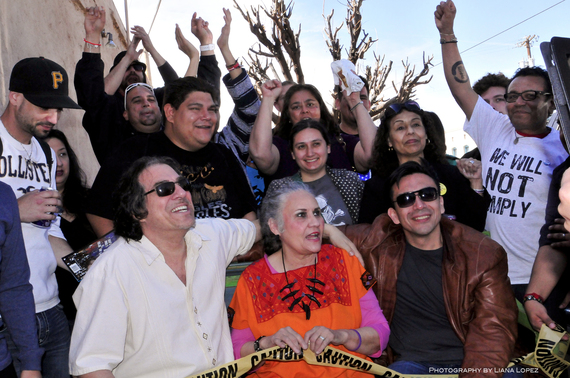 Writer Dagoberto Gilb, who is banned in Arizona, author Denise Chavez, Tony Diaz-El Libroraficante, and The Librotraficantes as the Librotraficante Caravan Smuggling Banned Books Back into Arizona stopped in Mesilla, New Mexico. Photo Credit: Liana Lopez-Librotraficante Lilo. __________________________________________________________
Discrimination is the only explanation for Arizona's banning of Mexican American Studies, threatening intellectual freedom for the entire nation.
A federal appeals court suggested as much in their opinion on July 7, 2015.
This is the ruling regarding the court case against Arizona's law used to ban Mexican American Studies. The court heard "Maya Arce vs Huppenthal", now called "Maya Arce vs Douglas," in January.
The law prohibits courses that promote the overthrow of the government. However, as the judges pointed out, it was enforced on only the K-12 Mexican American Studies (MAS) program at Tucson Unified School District (TUSD).
View original post 1,471 more words